Black window blinds are a fast-growing trend in home decor. Black home decor is chic and timeless to match any decor in your home. You can change your other furniture and furnishings and no matter what you choose, your black blinds will still work with them. Another great advantage is that dirt and dust don't show as much on black blinds. 
Window treatments tie in all the elements in a room, and choosing the correct window treatments will impact the overall aesthetics while giving each room a distinct look and feel. 
Black window blinds work well for any room in your home, including living rooms, bedrooms, kitchens, and bathrooms, for a more modern approach to your style.
The Versatility of Black Window Blinds
Black window treatments give you some of the greatest versatility in any room of your home for your interior design.
Neutral colors are great to use in your design because no matter what other colors you want to have black with, match it. Black is considered a neutral color, just as white; shades of white and tan are neutral colors.
Complementing Any Design Style
Black blinds work well with any design style, from traditional to modern, and they never go out of style, allowing you to keep the same blinds for many years.
Creating a Dramatic Effect
Black blinds can add a dramatic flair to any room while also creating a sophisticated atmosphere and dimension to your home as well.
Providing Contrast and Depth
The contrast between dark and light colors in any room give it depth and character. If you have black window blinds and your walls are painted a light and neutral color, it can make for a stunning appearance.
Blending with Any Color Scheme
Black window blinds will blend very well with any color scheme or color palette you may have. Black works well with both bright and bold colors, as well as more demure and understated colors.
Black Window Blinds in Living Rooms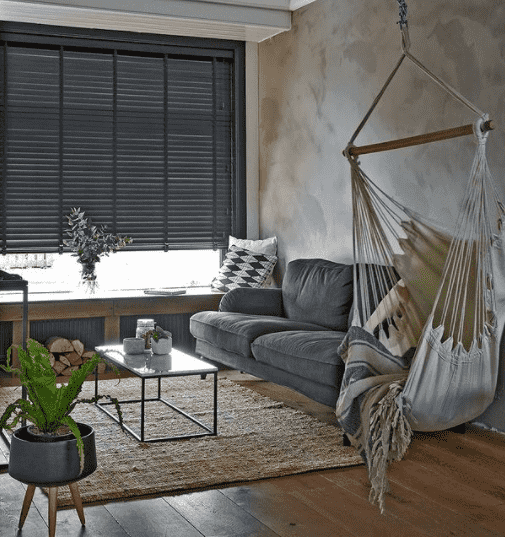 There are many advantages of using black window treatments in your living room.
Creating a Cozy Atmosphere
Dark-colored window treatments create a cozy atmosphere that is conducive to relaxing and curling up with a good book or watching television in your living room without distractions.
Enhance your natural lighting in your living room in two different manners when the weather is nice and not too hot or cold. You can tilt the vanes open to let filtered natural sunlight into your home, or partially open your black blinds for sunlight to reduce the need for artificial lighting and energy efficiency.
Pairing With Accent Colors
Black and white is a combination that is classic and classy at the same time. You can add black and white furniture in your living room or pair your black window blinds with your accent colors of green to add a sense of peacefulness and nature – inspired decor. Black and red also pair very well together and any color in your decor. Consider adding throw pillows or a rug that includes black and accent color to tie the entire room together.
When closed, black blinds give you perfect privacy with their dark color that doesn't allow neighbors or passersby on the street to see inside your home.
Black Window Blinds in Bedrooms
Blackout blinds can give you total darkness in the bedroom, so you can have a peaceful and quiet sleep. It's a well-known fact that everyone sleeps much better without disturbances in a room that is totally dark and cool. Achieve your best night's sleep with blackout blinds in your bedroom.
Adding a Touch of Elegance
When you think about it, black is an elegant color. Black tie events are edgier and more elegant affairs in which the dark color plays a major role in adding sleekness and boldness to the guests. In the same manner, black window treatments for the bedroom can add these same qualities.
Matching With Bedding and Decor
Tie in all the elements and colors in your bedroom by adding accents of black and another color from the palette in use. Custom bedding is an excellent choice to add accents of color and black together in comforters, bedsheets, pillowcases, and throw and accent pillows. Adding an area rug in the same colors will also enhance your style and decor.
Creating a Romantic Ambience
Bringing a dramatic flair to your bedroom without using loud colors and enlisting darkening blinds in black room. It can make your room feel extremely private and cozy at the same time for an intimate vibe.
Black Window Blinds in Kitchens
Kitchens need good lighting at all times, so you can see clearly to cook and clean in them. Black window blinds can enhance your natural light by allowing filtered light inside, or you can open them partially and the sunlight seems brighter when part of the blind blocks some of the light at the top of the windows.
Matching With Appliances and Cabinets
Black appliances give your kitchen an upscale appearance, much like a professional chef's kitchen. It ties in perfectly if you have granite countertops with black flecks or black hardware on your cabinets and drawers. Stoves, refrigerators, coffee pots, microwaves and a large line of small appliances are available in black to match your black window shades.
Providing Privacy While Letting Light in
Tilting the vanes open on your kitchen window treatments allows some filtered light inside but maintains a level of privacy.
Resisting Moisture and Stains
Your kitchen is considered a "splash zone" where there is often high humidity and heat from cooking and from doing your dishes. Choosing aluminum, faux wood or PVC roller blinds which work well in hot and humid conditions to resist warping or bending and losing their integrity. Black blinds can also be easily wiped clean if they get anything splashed on them.
Black Window Blinds in Bathrooms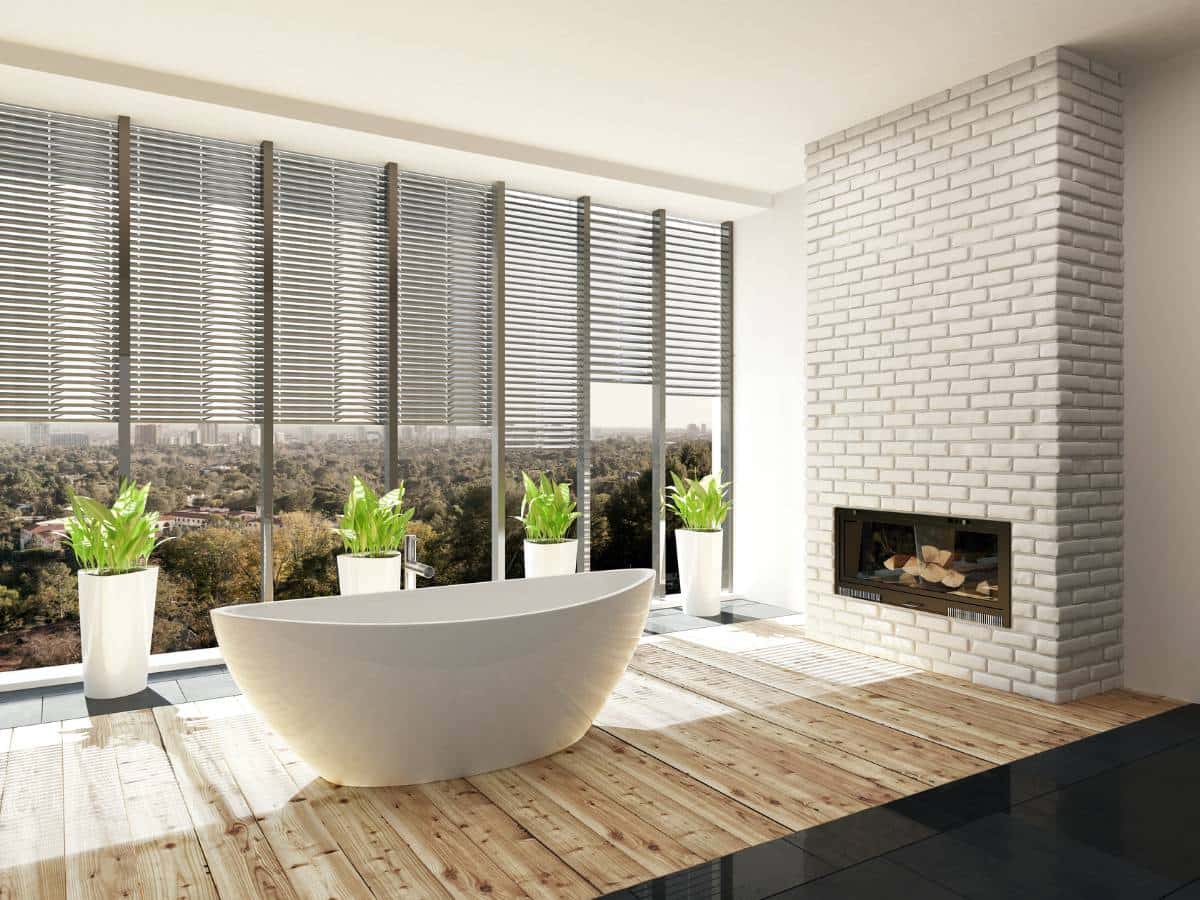 Creating a Spa-Like Atmosphere
High-end spas often use the combination of black and white to give them a peaceful atmosphere. Adding black window treatments to your bathroom can recreate a spa-like appearance and feel of tranquility to your bathroom. Light-blocking blinds also give you complete privacy from the outside world as well.
Enjoy the feeling of a sophisticated area in your bathroom with black blinds. They pair well with other accent items in black, such as toothbrush holders and cups, soap dishes and dispensers and black towel bars with pristine white towels hanging on them.
Blending With Tile and Fixtures
Black blinds also enhance your bathroom if you have a tile floor or your shower is made of tile with black accents in it. You can also add black fixtures to your bathroom, such as faucets, cabinet and drawer hardware pulls, a black tub and wall-mounted shower faucets.
Resisting Moisture and Stains
Choose your window blinds materials from aluminum, or faux wood, so they resist bending, bowing or warping from the moisture associated with a bathroom. This will also enable you to clean them up easily if they happen to get stains on them and most often, the color black will hide stains as well.
Black is definitely a versatile color to consider for window blinds for any room of your home. They match any color palette and decor and add sophistication and elegance to your living room, kitchen, bedrooms and bathrooms. 
You can share your own tips about decorating with black window blinds in the comments section, and check out Tampa Blind Pro's selection of blinds in Odessa, FL, for more information on the different types of window blinds.